RFI Musique - L'ÉPOPÉE DES MUSIQUES NOIRES
Interview with Pat Prescott for the WAV 94.7
Many folks may not know that Pat was the DJ who broke me in New York in the 90s... anyone remember those JazzCruises for CD101.9 NY???  
CLICK HERE
for the interview...
DRUMHEAD Magazine Issue No. 041
"Alternately described as jazz, world music and soul, Vinx's music is a uniquely compelling blend of rich vocal melodies and harmonies supported and propelled by sophisticatedly primal hand percussion that connects with audiences the world over." ~ Drumhead Magazine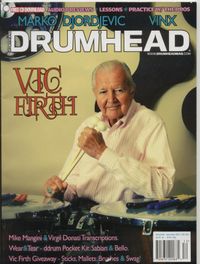 In this 8 page feature article, author Stan Hall, discusses the unique development of Vinx's musical career, highlights and viewpoints on the industry today, and sheds light on that one-of-a-kind Vinx style and where it will take him next.  From percussionist to vocalist, from Berklee College of Music in Boston to the slopes of Mont Blanc, Vinx is always inventing new ways to express his art and reinventing just what it means to be a musical genius at the top of his game.  Get your copy today online here...
Songwriter Soul Kitchen Receives Major Award
The Songwriter Soul Kitchen Workshops, brainchild of Berklee College of Music educator Vinx, was chosen as a major award recipient by the Iguana Music Fund of Club Passim.  The Iguana Music Fund was established in 2008 after a generous donor decided that he wanted to help artists pursue their musical goals. Artists often have the talent and ideas to create incredible music, but they do not always have the financial capacity to do so. To help musicians overcome financial limitations, the Iguana Music Fund awards annual grants worth between $500 and $2,000 to artists with a residential or tour-based affiliation to New England.
These funds are used for specific career-building and community service projects. In the past, the Iguana Music Fund has helped artists cover recording, touring, and equipment costs as well as helped pay for songwriting retreats, music camps, and more. Since 2008, more than $145,000 in grants has funded more than 90 projects.
Thank You Iguana Music Fund and Club Passim!!